International Milonga Vienna
2nd edition
YES, there is going to be a second edition of the infamous International Milonga organized by TANGO-DJ.AT! And it will be even larger, longer and better! It will combine the atmosphere of an international marathon with the uncomplicated style of a regular Milonga.  

No registration necessary: Just come & dance!
Date:
It is going to be a 2 day and 3 Milongas event on 26. & 27. July 2013!
Program:
Friday 26. July, 18:30-20:30:
Workshop with Bernhard, Birgit & Michael:
Unterschied kleine und große Drehungen in enger und offener Umarmung
Differences of small and large turns in close and open embrace
Friday 26. July, Friday night milonga 21:00-4:00
DJ: Christoph Lanner (Vienna/Austria)
Saturday 27 July, Saturday afternoon milonga 15:00-21:00
DJ: Karin Betz (Frankfurt/Germany)
Saturday 27 July, Saturday night milonga 22:00-4:00
DJ: Matthias Bellemann (Jena/Germany)
Location:
The location is offering 300m2 perfect wooden dance floor and AIR CONDITION:
Louis Braille Saal
Hägelingasse 4-6
1140 Vienna

(U-Bahn Station U3 Hütteldorferstraße)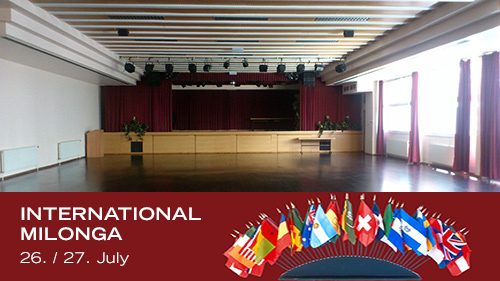 Food & Drinks
There will be a bar run by Ambrosia catering. On our request they included our "special tango drinks":
Club Mate: great taste, few calories, rich in coffein - makes you go on
Gin Tonic: great taste, lots of calories - makes you go on creative
In addition there will be soups available on Saturday night!
Don´t miss the chance to come by and see us before Alpine Abrazo at the 2nd International Milonga in Vienna on July 26 & 27! A great way to reunite, meet new and old friends and pass the time until September!
Last year's International Milonga trailer

Organization & contact
Bernhard, Heather, Michael, Gottfried, Sylwia, Paula, Birgit, Stefan, Heinrich

TANGO-DJ.AT
Association for preservation and provision of Argentine tango
office@tango-dj.at
+43(0)69919134442