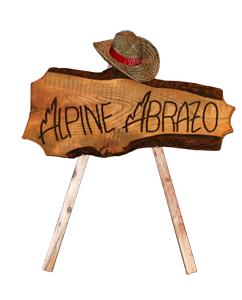 A BIG THANK YOU to all of you participating ALPINE ABRAZO and helping to make it such a wonderful weekend! You can find the ALPINE ABRAZO 2013 BACKSTAGE pictures in the foto section of the Facebook Group and the official pictures taken by Gaz Blanco on his Facebook page. We will puglish the pictures on this website to a later time as well.

Participation & registration
You can participate only for the whole event. Registration is mandatory and has started on 8 June 2013, 12:00h.
In order to get an idea of what it is all about you may take a look at the website of last year's Austrian Alpine Abrazo 2012 or read the guestbook comments.

What will be included with your registration:
Thursday Pre-tangoparty
Friday opening milonga
Saturday afternoon & night milonga
Sunday afternoon & night milonga
FREE bath & sauna facilities for Friday till Sunday in the same building
FREE Friday welcome dinner,
FREE Saturday & Sunday dinner
FREE warm midnight soups
FREE Fruits-, cakes-, cheese-snacks throughout the day and night
All soft drinks
Concept:
This will be a weekend where dancers from all over Europe enjoy dancing with each other at a very special place to an exquisit selection of music provided by international renown DJs. Our utmost concern is to provide a friendly environment for everybody to fully enjoy this weekend. For this we want to emphasize the importance of respecting the most basic principles of dancing at a Milonga. This includes knowing "Mirada" & "Cabeceo" for invitation as well as advanced floorcraft competence for safe and respectfull dancing! Everybody thinking that this is a good idea and who is capable and willing to support this is most welcome!
You may consider to spend some more days before or after the tango weekend in order to discover the amazing nature surrounding you! Please note that Mallnitz is located in the mountains (1200m), so please bring warm clothes with you! Weather can be great for hiking, but it can also be very cold. In case you want to hike please bring proper hiking equipment (boots, jacket,..) with you!
Facts:

A magical location: Mallnitz - a small village at High Tauern National Park / Carinthia / Austria, +1200m high altitude health resort
Local catering using mostly local organic products
~150-200 participants
Strictly gender balanced
International Tango-DJs & dancers
Workshop about Tango music and Tango-DJ-ing
Accommodation ranging from apartments (shared ~15,- / person), reasonably priced pensions (30,- EUR) to 4* hotels within 1-5 walking minutes
Bath & sauna & massages
Self-run bar offering alcoholic drinks
Lots of possible activities: hiking, climbing, rafting, canyoning,...
Organization & contact
TANGO-DJ.AT
Association for preservation and provision of Argentine tango