To be, or not to be a CTA-CD, that's the question!
I take for granted that you know about CTA meanwhile. If you are not sure about this please take a look at my CTA-catalog or CTA-FAQ first.
This page discusses CDs you may find in CTA-CD-listings or as pretending copies of CTA-CDs being sold in Argentina. These are CDs having a quite similar cover to the original CTA-CDs and continue the CTA-catalog. This is true for a collection of Juan D'Arienzo and Francisco Canaro CDs. Despite the fact of trying hard I was yet not able to identify the true origin of these CDs. So what is this all about?
There is no doubt about the original CTA-CDs being produced by Akihito Baba and published by the Japanese label Club Tango Argentino (CTA). CTA is registered with the Japanese Society for Rights of Authors, Composers and Publishers (JASRAC) and each CD has a registration number. The back cover of an original CTA-CD looks like this: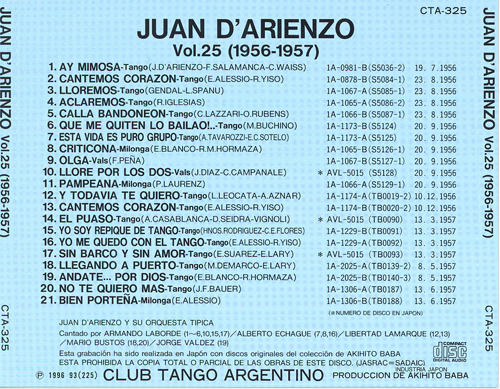 or this: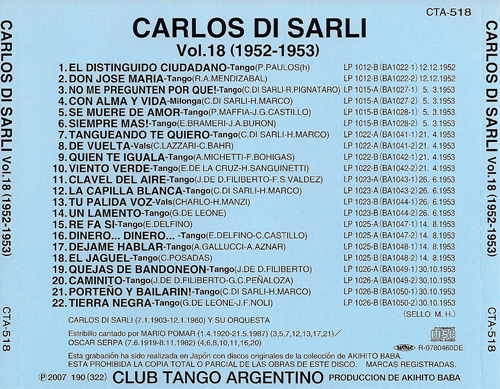 Whereas the back cover of the "CTA-wanna-be-CDs" looks like this: (thanks to Johan for this cover)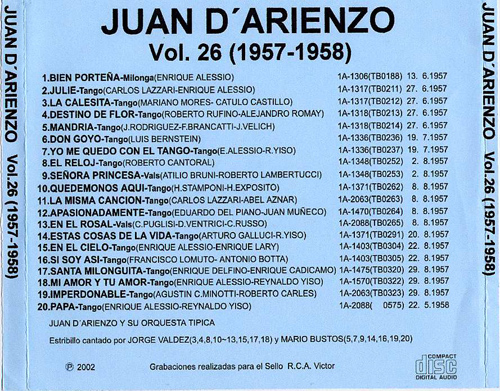 or this (thanks to Polo Talnir for this cover):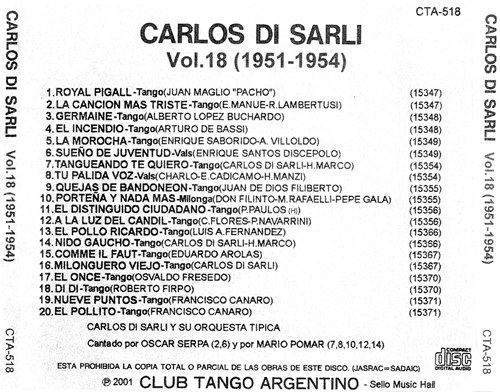 The obvious differences:
There are some attributes missing on the Vol.26 CD compared to the original CTA-CDs:
three digit CTA-number
"CLUB TANGO ARGENTINO" lettering
"PRODUCCION DE AKIHITO BABA" lettering
"INDUSTRIA JAPON" lettering
JASRAC logo followed by a registration number
"Esta grabación ha sido realizada en Japón con discos originales del colección de AKIHITO BABA" lettering
"ESTA PROHIBIDA LA COPIA TOTAL O PARCIAL DE LAS OBRAS DE ESTE DISCO. (JASRAC = SADAIC) lettering
format of singers-listing is slightly different
differences in details for matriz and years
But the most important difference becomes obvious when listening to the tracks of these CTA-wanna-be-CDs and the original CTA-CDs:
Characteristic for the tracks on the original CTA-CDs is:
straight forward, uncleaned transfer from 78 RPM to CDs
unmanipulated sound (no compression, no enhancement, no limiting, no filtering)
natural sounding speed which in most cases is the same speed or considerably slower than on most known commercial released versions. So the tracks have the same running time or up to 12 seconds longer (due to a slower speed) running time than the common versions.
natural and clear sounding instruments
whereas the tracks on the "CTA-wanna-be-CDs" have this characteristics:
almost all of them are significantly (up to 15 seconds) faster than the known versions sounding unnaturally fast.
even though the signal on the CD is not overdriven - the sound clearly sounds like somewhere in the transfer, recording, production chain of these CDs the signal was recorded or manipulated heavily overdriven resulting in a strong distorted sound.
cleaned and/or dull sound
After comparing lot's of CTA-originals with different argentine bootleg and look-alike CDs like those mentioned above I come to the conclusion that these CDs are not CTA-CDs or copies of them. You may find more information about this on "Argentinian bootleg copies of CTA-CDs?"