Travel Report Japan 2012
22 October - 9 November 2012, Tokyo, Osaka, Kyoto
It was my very first trip to Japan and various people are interested in different aspects of my trip. Therefore I am writing a travel report covering Tango music, Tango dancing & sightseeing during my 18 days stay in Japan. The presented thumbnail pictures are a selection and can be clicked to enlarge.
People knowing that I am into Tango understand when I tell them I travel to Buenos Aires, but Japan? Why Japan? Well, what most people and even plenty of Tango-DJs don't know is that a good part of special Tango music available today is based on the collections and work of some japanese Tango collectors. Most important in alphabetical order are Akihito Baba-san (Club Tango Argentino), Yasuhiko Fukukawa-san (Juan D'Arienzo set under Audio Park) and Yoshihiro Oiwa-san (La Asociacion de la Musica Porteña (A.M.P.)). So main reason to travel to Japan was to meet those important collectors or their successors. Second reason was that I have never been to Japan so far and since I like lot of things coming from there I was curious to get to know country, culture and people as far as possible within a rather short stay. Third reason that I had the unique chance to time my trip with Tetsuo a japanese friend living in the US visiting Japan at the same time inviting me to various meetings with his family.
To make it short, Tokyo is fascinating, Kyoto and Osaka's temples and history interesting, food amazing, green tea delicious, people the most friendly, helpfull and welcoming I have come across. A big thank you goes to Hiro, Hisao, Olga, Keiko and Tetsuo for helping me with translations, addresses, contacts and getting around in general! I'll be back! : )
Bernhard Gehberger
Some shortcuts:

Monday, 22.10.2012
Departure from Vienna.
Tuesday, 23.10.2012, Day 1:
Tokyo, arrival, family Oiwa
Arriving at Narita international airport about 7:00h in the morning. Renting a mobil phone since my old cool Nokia business mobile does not function in Japan's high technology UMTS networks. For this you need a credit card. Whereas in order to get your prepaid subway chip card SUICA you need cash - JPY. Then I exchange my Japan Rail Pass voucher which you have to buy abroad beforehand against the real pass. This enables you to use the expensive Japan Rail for 7 days for the flat rate of ~300,- EUR. (only with tourist visa!) A cheap alternative to the Narita Express for transfer to Tokyo is the JR Sobu Rapid Train. (this reminds me on our system here in Vienna: CAT 11,- EUR vs. S7 4,- EUR). First "meeting" with japanese commuters. They seem to be able to switch themselves off the moment after getting on the train and wake up exactly at the second arriving at their stop actually jumping out of the train.
Since check-in is not possible before 16:00h I leave most of my luggage at the hotel and get in touch with my first japanese contacts. Provided with the address of the house of Oiwa's family I decide to go there and try to get in touch with them personally. Yoshihiro Oiwa-san is one of the most important collectors worldwide. He published transfers of his 78 RPM records on 80 LPs and 211 CDs under his label A.M.P. (La Asociacion de la Musica Porteña). Yoshihiro Oiwa passed away 22.12.2009. Nowadays his sons Yukio Oiwa-san and Isao Oiwa-san are in charge of his collection. Yukio Oiwa-san is running the family's tea shop, Isao Oiwa-san is teaching Spanish at university. I was happy to be able to place my order of about 200 AMP CDs directly with them and arrange a meeting on my first day in Tokyo even before having checked in at my hotel.
After this successfull first meeting I checked in at the hotel getting used to my small room and almost computer controlled bathroom..
Wednesday, 24.10.2012, Day 2:
Tokyo, record shops, Roppongi sightseeing
Visiting various record shops. One of them being the one and only insiders' tip. I get basically all interesting (=out of print) CTA, AMP, RCA and FM-Tango CDs (~100 CDs) on display and reserve a pile of CTA & AMP LPs. Sadly Ueno Takeshi-san being in charge of Tango there does perfectly know the situation about those CDs. CDs basically still available are expensive, CDs which went out of print recently are more expensive and CDs being out of print for quite some time are very expensive. This means you pay there ~40,- EUR for each 2nd hand CD.
First sightseeing trip to Roppongi, one of the most famous entertainment and night club districts. Too late, dark and windy for the 20,- EUR expensive observatory deck of Mori Tower, too early for the Bar Hill Club one floor below. Anyway very interesting view of Roppongi's beginning night life. If you think you have seen crazy outfits no matter where - comics, movies, documentaries - forget it. Anything will be topped at Roppongi's Crossing in the evening easily.
Thursday, 25.10.2012, Day 3:
Tokyo, Shinjuku, Yoyogi, Shibuya, Ichikawa, Tetsuo family:
Sightseeing to Shinjuku business and skyscraper district. There is also Tokyo Metropolitan Government building with Tourist information center (offering a wide selection of city and sightseeing maps of Tokyo!) as well as a free observation deck on top of the building.
Then long walk to Yoyogi park and Meji Jingu shrein. Exiting Yoyogi park at Mejijingumae station. From there I can recommenda walk to Omotesando station at 18:00-19:00h evening. This area is known for young fashion addicts and this is what you can expect to see on this street - an incredible number of young japanese people in crazy outfits.
If you wonder that there are not too many pictures of those cool people: One interesting fact is that in Japan there is no age restriction for intercourse, but taking pictures of people without their permission is considered as sexual harassment and leads to court proceedings regularly..
In the evening I travel with Tetsuo to Ichikawa visiting his family. Tetsuo is a japanese friend of mine living in the US but visiting Japan at the same time. We have a fantastic japanese dinner and I stay at their house overnight. I found out that they love to drink beer and that japanese beer tastes almost exactly the same like Austrian/German/Czech beer. In the morning they made me try "Nato", quite a special typical japanese dish made of fermented soi beans, sea weeds, baby fishes and some gooey stuff. A big thank you to Tetsuo and his lovely family for such a friendly welcome in their house!
In the morning I bought my first selection of japanese green tea at a local supermarket. You could try any sort of green tea - a very friendly shop assistant prepared it fresh for tasting, what a luxury service!
Friday, 26.10.2012, Day 4:
Tokyo, Asakusa, Skytree, Yurikamome line, Tokyo Bay, Roppongi sightseeing
Back in Tokyo sightseeing in Asakusa. Walking through Nakamisa Shopping Street to Sensoji temple and Asakusajinja shrein. After that walking across the river to Tokyo Skytree. During nice weather you might have to cue for about one hour to be able to pay 3000,- JPY (~30,- EUR) for the observation plattform. Something I skipped.
Instead I went to Shimbashi and took the Yurikamome line to Tokyo Bay. Riding the Yurikamome monorail train is like being in a computer game - unbelievable. From Tokyo Bay you have probably the most romantic and quite view of Tokyo skyline and the Rainbow Bridge. Simply lovely.
A short trip to Roppongi in the evening. I turns out that there is beginning Halloween in Roppongi Tokyo! I feel like a small clueless boy from the countryside.. Whatever you might have seen in film, comics, simcity, second life, it is easily topped on Roppongi streets of Tokyo during weekdays, not to speak during Halloween on weekend! No pics for this, because most likely I'd get sued and arrested immediately.
Saturday, 27.10.2012, Day 5:
Tokyo, Japan Tangoacademy, Audio Park - Yasuhiko Fukukawa-san
Meeting with Olga a friend living in Japan and visiting this mean record shop offering so many interesting LPs, SPs, CDs. In the evening I am following the invitation of the Vice President of the Japan Tangoacademy to attend one of the famous Tango gatherings organized by the Japan Tangoacademy. These are CD/LP/SP and live concerts. Yasuhiko Fukukawa-san and his wife are meeting me at the subway station to accompany me there. Yasuhiko Fukukawa-san is collector and expert for Juan D'Arienzo. He produced the famous high quality 11 CD series Juan D'Arienzo Época de Oro published under Audio Park.
The Japan Tangoacademy was founded by Yoshihiro Oiwa-san in the year 2000 and consists of 200 members. An active and good contact to the argentine tangoacademy is maintained. During those gatherings various japanese collectors are presenting recordings on CDs, LPs and SPs commenting on each recording and/or artists. Sometimes there are also discussions with musicians and live performances. Finishing the evening with a lovely japanese dinner and Tango discussions.
Sunday, 28.10.2012, Day 6:
Tokyo, Oiwa family, El Efecto Milonga
A big day. In the morning my first official meeting with the Oiwa family. Yukio Oiwa-san, Isao Oiwa-san and their mother Chizuko Oiwa-san, as well as a japanese friend of mine Tetsuo-san are present. I receive my CD order of about 200 AMP CDs and we talk about how Yoshihiro Oiwa-san started to build up his collection of Tango music in 1941 when he was only 12 years old. Yukio Oiwa-san runs the family tea shop which was founded 1915 by Michitaro Oiwa-san, the brother of Yoshihiro Oiwa-san's father Shinosuke Oiwa-san. Isao Oiwa-san is teaching Spanish grammatics at university. Another brother Mamoru Oiwa-san is living in Kyushu.
Yoshihiro Oiwa-san born in 1928 bought his first Tango record in 1941 being 12 years old. Due to the war travelling for private people is forbidden until ~1965. Yoshihiro Oiwa-san is studying law and works at the family's tea shop. He is buying imported Tango records. 1970 he is travelling to Buenos Aires for the first time. 1978 he produces his first LP from live recordings of Orquesta Típica Corrientes. After that 80 LPs with transfers from his 78 RPM records and 211 CDs will follow being published under his own label La Asociacion de la Musica Porteña (A.M.P.) A significant part of the worldwide available Tango music is based on Yoshihiro Oiwa-san's work, his collection and publications. I think it is important to respect Yoshihiro Oiwa's work by buying music from people making it available in respect of the family Oiwa, instead of damaging the attempts to make even more music available of this great collection by copying illegally. It takes enormous efforts in regards of finance, equipment, know how, time and work to produce further transfers and publish new music based on this collection. This will never going to happen if a majority of people prefer to simply copy what is there. Please keep this in mind next time you decide to buy or copy your Tango music.
During our meeting and discussion Yukio Oiwa-san is phoning Akihito Baba-san asking for an appointment. Chizuko, Isao, Yukio, Tetsuo and I being present. Akihito Baba-san has no time, but his voice sounds healthy and strong. This phonecall is important to proof stories about the death of Akihito Baba-san being spread in Europe simply wrong. Akihito Baba-san published 132 LPs and more than 240 CDs presenting transfers of his extensive 78 RPM SP records under his label Club Tango Argentino (CTA). There are new releases unregularly. (latest release October 2012). Due to limited editions and no distribution network it is hard to get hold of those CDs. Some people being upset with this situation like to believe claims about his death being spread in various mailingslists and websites. Please note that those claims are wrong. If you are interested in CTA CDs please take a look at my CDs in stock page where you can find all CTA and AMP CDs available (and some already out of print CDs) being in stock.
Isao Oiwa-san asks me if I would like to meet him again. I feel honored by his invitation and gladly accept. After this interesting meeting with Oiwa family Isao Oiwa-san gives me a lift back to the hotel just in time to meet with the president of Audio Park. I receive another 200 CDs order of Juan D'Arienzo Época de Oro Audio Park CDs. Audio Park is specialized in Blues and Jazz transfers offering 70 CDs of Jazz transfers as well as 60 CDs of contemporary japanese recordings and did a very good job in remastering and publishing those D'Arienzo transfers for Yasuhiko Fukukawa-san.
In the evening I am visiting my first japanese milonga which is "El Efecto". Due to the very special real estate situation in Tokyo (being extremely expensive) Milongas in Tokyo tend to be very small and rather expensive for European means. Entrance is between 2000 and 3500 JPY (20-35,- EUR) for 3 hours of Milonga. Average number of dancers ranging from 10 to 40. (ok, 10 might have been bad luck, but it was a Saturday night Milonga..)
Anyway the Milonga not being state of the art, the post-Milonga-dinner together with Korean and Japanese friends defenitely was! I can't remember when I had such a friendly and welcoming post-milonga-dinner the last time. A big thank you to Miwa, Eunju, Keiko, Satomi & Zeno!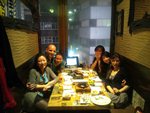 Monday, 29.10.2012, Day 7:
Tokyo, Tsukiji Fish market, Hama-rikyu garden, Ginza
One of the most famous things to visit in Tokyo is the Tsukiji Fish Market. The auction of basically any sea food there is is starting somewhen 4 or 5 in the morning. Since there is no public transport it is not too ease to get there in time. Anyway after having had a very long Sunday I was sleeping long, going there in the morning around 11:00. Of course all the action is gone by then.
Anyway it's nice to have a walk and to enjoy some of the probably best and freshest Suhi there is worldwide. I thought it will be reasonable priced being the fish market for wholesale, but the smallest Sushi set consisting of 7 pieces of Sushi comes for 2200 JPY or more. (22,- EUR) Still it was worth any cent! Each single Sushi (including making of Wasabi) is made made fresh in front of you and served by itself. Next one comes after having eaten the first one. (I was slow on purpose trying to get some of them on a picutre though..)
After the Sushi breakfast a walk to the Hama-rikyu gardens near by having a cup of japanese tea in one of the oldest tea houses:
On the way home making a stop over at Ginza station. On the way there I come across the probably most ugliest building in Tokyo: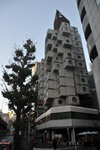 Ginza is one subway station, but it has 30 different exits. You actually feel like being at an airport with terminals. An amazing underground subway station leading to an amazing exclusive, luxury shopping paradise on ground level. What is a small exclusive boutique in most cities will be a small skyscraper building for any major brand there is. (The first bottle of french red wine I spotted in a wine shop in Ginza was on sale for 200.000,- JPY (~2000,- EUR).
What you do notice in japanese food there is hardly any fat and sugar. Anyway if you come across one of the few places offering sweets you will see a long line of customers. I think that a nice Viennese Café offering cakes would be good business in Tokyo.
Tuesday, 30.10.2012, Day 8:
Tokyo, Shinjuku, Tetsuo family
Another stopp at that mean record shop. This time buying a pile of CTA and AMP LPs, as well as some SPs wondering what will happen if my hand luggage is going to be weight at airport finding out it is about the weight of my regular luggage...
This evening I have dinner with Tetsuo and his nephew. We meet in Shinjuku, another famous night life district of Tokyo. So going to the restaurant turns out to be another small sightseeing tour through one of Tokyo's night life areas.
We are having another lovely, typical japanese dinner quite similar to the Taiwanese hot pot restaurants. A pot of hot water is placed at the middle of the table and you get plates of vegetables and raw meat. Then you throw in whatever you like and have it with various dips. Problem is that this is kind of buffet, meaning that you pay a flat rate no matter how much you eat. So you end up with a big big belly..
Wednesday, 31.10.2012, Day 9:
Niigata, Tetsuo family
It's the start of my 7 days Japan Rail Pass. With this pass it's possible to use any JR line throughout Japan for free for one week. As a start I am accompanying my friend Tetsuo to the west coast of Japan visiting his home town and family. Before leaving Tokyo you can see a picture with some of this Tokyo-typical various level systems. Basically an entire pedestrian walk up in the air building a second floor above the streets.
First stop at his family's house having a fantastic lunch.
Then we are travelling all together to another house.
and then to a temple run by family members.
After the temple we drive along the west coast of Japan to Niigata for having another fantastic japanese dinner.
The whole family buys tickets just to be able to come with us to the train and wave good bye.
Thursday, 1.11.2012, Day 10:
Kyoto, temple & Imperial Palace sightseeing
After a very long day yesterday returning to Tokyo at midnight Tetsuo and I are leaving 6:00h in the morning travelling to Kyoto. Having arrived there we are taking a walk at the city center and some smaller temples. But you may find a computer-toilet even at the smallest, oldest most hidden temple..
The picture taken next to Tetsuo is the garden of the famous Rozanji Temple built 938 and Site of the residence of Lady Murasaki.
Tetsuo is meeting a friend of him, I take a walk to the national garden of Kyoto. It turns out to by my lucky day, I am visiting the national garden during the 4 days per year where the Kyoto Imperial Palace is open to the public!
Last picture is a side building of the impressive Kyoto train station.
Friday, 2.11.2012, Day 11:
Kyoto, temple sightseeing, music café
Early start for visiting 7 temples. At least this was the plan of Tetsuo. He hasn't thought of an easygoing Viennese travelling with him.. Until the first temple everything is fine and in schedule. It is the Kinkaku / Rokuon-ji temple, one of the most famous big temples attracting lots of tourists and japanese school classes. I find myself more interacting with japanese pupils than culture.
Of course on the walk to the next small hidden temple the Viennese in me discovers a small little café having lots of CDs in shelves. Ok, cosy, nice looking café and CDs in shelves for me more interesting than any golden temples. It turns out that the owner Watanabe Setsuo-san and his wife being a huge fan of classic music and the Vienna Philharmonic Orchester is running the most expensive, luxury, classic music jukebox in the world. Its good luck that Tetsuo is also a big fan of classic music. So we spend quite some time asking Watanabe Setsuo-san to play various CDs and LPs on his ~20.000,- EUR stereo system for us while having fine English tea with it.
For me this was a fantastic afternoon, of course poor Tetsuo's carefully developped temple visiting schedule is a mess. Good luck we got to know Takahisa Mimbu-san. He is studying law in Kyoto and knows all the temples. He is joining us to our temple tour. Next one is a very small hidden one, it turns out to be my favorite. No tourists, actually no visitors at all and what a fantastic japanese garden!
On the way to the next temple Takahisa is showing us his university. Actually I thought that japanese students are very hard working.. Third and as it will turn out our last temple. It is the Ryo-anji temple. It has maybe the most famous stone garden.
Due to the lazy viennese guy we did not even manage half of the scheduled temples. For me it was more than enough and I enjoyed everthing a lot - it was perfect for me, but I felt very sorry for Tetsuo and his very carefully prepared sightseeing plan.
Saturday, 3.11.2012, Day 12:
Osaka, Zero Hour Milonga, Roppongi night life
Tetsuo is travelling to the South of Japan. I have to return to Tokyo, but I decided to do it with a detour via Osaka. fighting my way through a very busy Osaka train and subway station I make my way to the city center visiting the Namba Walk. It's a shopping street/arcade and I thought I will simply walk till the end. I had no idea that this will take two hours without visiting one of the shops. It is massiv, long, full of people and interesting.
After city center shopping arcade craziness some cultur sightseeing to balance my visit to Osaka. I decide to take a look at the Osaka Castle Park and the Tenshu-kaku, the Osaka Castle Museum.
The picture of the almost 60m2 large and 182 ton heavy "Octopus Stone" is taken for a special friend of mine. Lets see if she finds out.. The picture of the pupils is taken since they do an incredible job of cleaning the floor of every single small glass piece and other debris. Hundreds of them were all over the place cleaning it up. Penultimo picture was a completely new sport to me. Most likely this will come to Europen in some years?! Looked kind of fancy, difficult and dangerous.. Feet are not attached to those wheels and the do crazy things jumping up and exchanging those wheel-platforms in midair. Quite often also falling off..
After sightseeing in Osaka I travel back to Tokyo, have a shower and a rest deciding to head for my first Saturday night milonga in Tokyo. One of the known ones is Zero Hour and it is supposed to go until 3 or 4:00 in the morning. One thing you have to know about the metropole Tokyo is that public transport stopps around midnight, also on Saturday! So I decide to take one of the latest trains to get to the milonga at Roppongi. Sadly it turns out to be very poor day/night for that Milonga. 2500 JPY (25,- EUR) entry and 8 people present. I leave after one hour heading for Roppongi night life.
I am visiting one of the known clubs in Tokyo. Security asks for my ID! Haha, for the last 20 years nobody asked me for an ID. Japanese door policy is really strict with this. Nobody under 23 will enter a club. Everybody is asked for presenting ID. I did not have an ID with me, but after some discussion showing hotel keycard I made him believe I am older. Entry 3500 JPY (35,- EUR) three drinks included. First sign you come across when entering: "No dancing". Second sign you will see: "Please no dancing". Hm, in Japan it is forbidden to dance in public places after midnight by law. Still they play best dance music and the moment people start moving very friendly staff is coming, saying sorry and ask to stand still.. Ok, two clubs later it's 6:00h in the morning and I return to the hotel having breakfast and a short nap.
Sunday, 4.11.2012, Day 13:
Tokyo, Tangoacademy, El Efecto Milonga
It is only a short nap because today it's my second invitation to the Japan Tangoacademy Tango gathering. It will be a CD concert and live performance. I meet Yasuhiko Fukukawa-san at the subway station and we go to the meeting together. He tells me about his plan to publish 3-5 more Juan D'Arienzo CDs including lots of milongas and valses. Since he is not convinced that this might be interesting for enough people. In Japan people are not interested in Milongas or Valses he says. I try to convince him that this would be very interesting to Tango-DJs all over the world. Before starting the live performance I get introduced as special guest by the vice president of Japan Tangoacademy.
During the concert I meet Hiro-san, a friend I only had virtual contact with so far. After the concert a group of members have another lovely typical japanese dinner. Afterwards Hiro and I decide to take a short look at "El Efecto" Milonga. It turns out that they have special guests performing that night. We meet Kyoko and Hiroshi Yamao the Tango Argentino World Champions 2009.
After some dances we take another short look at another Milonga, but decide to have some wine instead. Hiro invites me and Satomi to a luxury Italien bar and restaurant for two bottles of exclusive Barolo.
Monday, 5.11.2012, Day 14:
Toyko, Oiwa family
It's my second meeting with Yukio Oiwa-san, Isao Oiwa-san and Chizuko Oiwa-san. It will turn out to be a seven hour meeting. We talk about Yoshihiro Oiwa-san and how he started to build up his Tango collection. Later on Isao Oiwa-san let me have a closer look at this extensive collection. Yukio and Isao Oiwa-san are aware of the amount of work and dedication of their father necessary to bring together such a collection. They want to protect and keep this valuable collection in family property. Both having a full time job they do not find enough time to work on the collection. We are discussing possible future usage of this important collection. I would wish that all the Tango-DJs and other people copying their music in the name of "their love to Tango" could be present in such moments in order to understand what it means to try to overcome all problems to make parts of such a collection available to other people.
Hopefully we will be able to make already existing, but nowadays out-of-print CDs available again. If this turns out to be successfull enough there might be a small chance to start to open up more of this outstanding Tango collection providing the Tango community worldwide with unheared Tangos.
During our meeting they find out that I am very much fond of japanese half shaded green tea. From then on another pot and exclusive green tea is used for accompaning our discussions. At the end of our meeting Chizuko Oiwa-san is giving me their family tea pot and exclusive green tea as a present. I can not express how much I was touched by this. I have used it since then almost every day and it will keep on reminding me of our special meeting. Thank you so much for welcoming me in your home in such a lovely way!
The picture in the middle shows Yoshihiro Oiwa-san meeting Astor Piazzolla and his wife during his first trip to Buenos Aires in 1970. The last picture shows Isao Oiwa-san in front of SPs during our meeting.
Tuesday, 6.11.2012, Day 15:
Tokyo, Sanju Chiba-san - ELP Corp., Akihito Baba-san - CTA
Some time ago I heared of the Laser Turntable, but I forgot about it again. Being in Japan and getting reminded of this technique being developped in Japan nowadays I start researching for the company in charge. It is ELP corp. situated in the suburbs of Tokyo in Saitama prefecture. I managed to get an appointment with Sanju Chiba-san president of ELP corp. for a demonstration of this remarkable special Laser Turntable.
The technique to read vinyl records without physical contact by using laser technology is based on the theoretical analysis of Mr. Robert E. Stoddard. After graduation he established final Technology, In. and developped a working prototype after 7 years of work and 20 million dollars of investment. But without the support of major labels and missing bussiness opportunities it never went into mass production. The technology was taken over by Sanju Chiba-san president of ELP corp. After two more years of development Sanju Chiba-san managed to be able to build the Laser Turntable on custom order.
Five lasers are used to track, follow and read the information of the audio groove. Different records sizes can be read, speed can be adjusted in 0,1 RPM and the position of the laser reading the information in the audio groove to optimize the quality can be adjusted as well. Opperating the turntable almost the same like using a CD player. I brought a LP and an old 78 RPM SP with me. Any record is put on the tray, size and speed choosen, press play and listen to Tango music without the record being touched by a needle. No change of stylus or pickup needed.
After this demonstration and returning to Tokyo another big and to me very important situation happend. By chance I run into Akihito Baba-san while trying to leave a note and present for him. He has no time for a meeting, but it was great to see him in person being healthy, full of energy and powerfull. According to my information he must be around 80 years old, but to me he looked like 60 years max. It's a pitty there was no possibility for a longer meeting, but to me having seen Akihito Baba-san in person made my day. Also I am very glad that he found time to put my order of 200 CTA-CDs together during my stay in Tokyo. I do hope that this finally can sort out the misleading information about his death being distributed in Europe on various mailingslists and websites.
In the evening I received my 200 CTA-CDs and I have a dinner with Kazuo-san an important CD producer. We have a long and interesting talk about Tango and republishing music under licence. Thank you so much for invitation and interesting discussions Kazuo-san!
Wednesday, 7.11.2012, Day 16:
Tokyo, Shibuya
Sightseeing in Shibuya, another cool, hip area of Tokyo. The pictures below show one of the most busiest crossings in Tokyo. There is only one word to describe this: crazy. For lunch I have a fantastic Misu-noodle-soup in a tiny small noodle place in the center of Shibuya.
I walk through Shibuyacenter towards Yoyogi park passing a fantastic alley with trees of all colors.
On the way back to the hotel I wanted to say good bye to Ueno Takeshi-san and his mean record store just to find out that there are some more out-of-print AMP CDs. Having no enough money with me (each CD is about 40,- EUR !) I return to my hotel only to come back again for this very last CD shopping. Tetsuo having returned from his South of Japan trip join me for a last big running sushi dinner at my favorite place. Together we had almost 40 plates of Sushi. The great thing about this running sushi restaurant: It's reasonable priced (135 JPY (=1,35 EUR) per plate of sushi (2-3 pieces)), of high quality, super freshly made (anything on the belt for some time is thrown away), and if you don't find something on the belt you simply ask for it and get is served instantly fershly made for you and you only.
Then my first 6 hours of packing my stuff throughout the night..
Thursday, 8.11.2012, Day 17:
Tokyo, Higashi-Nihonbashi, Shibuya, Tango Origin
My last day in Tokyo. My business hotel does not have a scale! Bringing my first suitcase to the post office shows that even being packed only 2/3 has 28 kg instead of 23 allowed. So repacking will be necessary. I try to catch the last sunny moments in Tokyo having a walk in the neighborhood of Higashi-Nihonbashi.
In the evening I meet with Hiro in Shinbuya again. This time I experience the most busiest crossing during rush hour in the evening.
Then we have my last typical japanese dinner together with Eunju, Saitamo and Mathias. After dinner we head to Milonga TangoOrigin where I finally also meet Rui knowing each other only virtually so far as well.
I want to say a BIG THANK YOU to all the lovely people who made my stay in Tokyo such a nice and wonderfull experience! I am missing Japan already and I will certainly be back in the near future!
Thank you Akihito, Azucena, Chizuko, D'Arienzo-hakase, Eunju, Fujio, Gyu, Hiro, Hisao, Isao, Kazuo, Keiko, Keiko, Ko-suke, Matthias, Olga, Rui, Saito, Satomi, Sanju, Setsuo, Shigeru, Takeshi, Tetsuo & family, Yoshiyuki, Yukio, Yumiko!

Friday, 9.11.2012, Day 18:
Tokyo departure
Getting to the airport by public transport with three pieces of luggage and backpack having only two arms was challenging. Last big surprise - even security personal at the international airport Narita is polite and friendly. I think they are the only ones world wide. It was almost a pleasure to pass security control. I will defenitely miss the friendly, respectfull, helpfull and polite way of Japanese people in all moments and situations.