Tango-DJ.at
Newsletter
August 2012
by Bernhard Gehberger
21 August 2012, 1:40h
UPDATE:
Following CTA-CDs went out of print just after I have sent the newsletter:
CTA-125, CTA-210, CTA-302, CTA-306, CTA-415, CTA-451, CTA-521, CTA-522, CTA-523, CTA-728, CTA-742, CTA-767.
Please note also the changed CD-list:
20 August 2012
Dear tango enthusiast,
this is Bernhard from Vienna with a new edition of the monthly newsletter Tango-DJ.at about DJ-ing, special tango CDs, tango dancing and much more. If the newsletter is not displayed correctly you might consider reading the online version. Enjoy!
Introduction
This newsletter today happens to be published on my names day! So for once I will dedicate one of the main topics of this newsletter to an event organized by Tango-DJ.at - Alpine Abrazo 2012 the first international tangomarathon in the Austrian Alps! Registration is open, most important details published, be fast enough and save your place!
Second topic is about a 129 CD collection of Francisco Canaro. Finally I finished crosslistening and verifying tracks as far as possible. Tracklistings of those CDs as well as missing recordings published on other CDs and a "CD-discography" of Francisco Canaro recordings are available now.
Our Audio-/Video presentations for this month is featuring a rather unknown tango by Juan Maglio "Pacho" taken from CTA-728.
Previous newsletters can be found in the newsletter archive.
Thank you very much for your attention, I hope you enjoy this month's newsletter. I'd very much appreciate your feedback and comments on the content presented. In case you know somebody who might be interested in this newsletter please recommend it or place a link to Tango-DJ.at.
best wishes from Vienna,
yours,
Bernhard
DJ-ing & dancing tango
Alpine Abrazo 2012
Tango-DJ.at is organizing an international tangomarathon in the beginning of October in Mallnitz, an high altitute health resort situated in High Tauern National Park.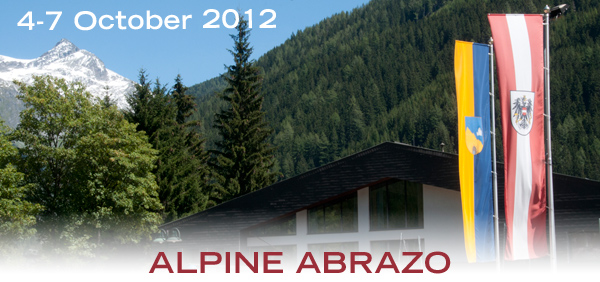 Registration
Registration is open. In order to be able to attend the marathon you need to register, receive our confirmation and pay the ticket. So far people from Australia, Belgium, Croatia, Germany, Ireland, Italy, Russian Federation, Serbia, Sweden, Slovak Rep., United Kingdom and Austria are attending! Places are limited, so please don't wait too long with your registration if you are interested to participate! (Places for women are running low..)
Program & DJs
Find out about the full packed program and DJs on the program and DJ page. There you find also details about catering, the spa area and massage options.
Concept:
This will be a weekend where dancers from all over Europe enjoy dancing with each other at a very special place to an exquisit selection of music provided by international renown DJs. Our utmost concern is to provide a friendly environment for everybody to fully enjoy this weekend. For this we want to emphasize the importance of respecting the most basic principles of dancing at a Milonga. This includes knowing "Mirada" & "Cabeceo" for invitation as well as advanced floorcraft competence to secure safe and respectfull dancing also on a crowded dance floor! Everybody thinking that this is a good idea and is capable and willing to support this is most welcome!
You may consider to spend some more days before or after the tango weekend in order to discover the amazing nature surrounding you! Please note that Mallnitz is located in the mountains (1200m), so please bring warm clothes with you! Weather in October can be the best hiking weather in the whole year, but it can also be very cold. In case you want to hike please bring proper hiking equipment (boots, jacket,..) with you!
Facts:

A magical location: Mallnitz - a small village at High Tauern National Park / Carinthia / Austria, +1200m high altitude health resort
Good connection: International railway connection, 1,5h from Salzburg or Klagenfurt, 4h from Vienna, 3,5h from Munich, 3h from Udine
Building featuring Tauernhall (230m2 Milonga, 130m2 Anteroom) & sauna area included in the marathon ticket
~150 participants, gender balanced
Experienced, international Tango-DJs
Programm: Thursday 4.10.: Pre-tangoparty, Friday 5.10. night, Saturday day and night, Sunday day and night Milongas. (with dinner breaks)
Lecture about Tango music and Tango-DJ-ing given by various international Tango-DJs and specialists.
Accommodation ranging from cheap (15 EUR) over reasonably priced pensions (30 EUR) to 4* hotels within 1-5 walking minutes
Lots of possible activities: hiking, climbing, rafting, canyoning,...
Full pass ticket of 90,- EUR includs Friday to Sunday Milongas, sauna, dinners, warm midnight snacks, all day & night snacks, soft drinks, coffee, tea, and probably the best water you have ever had
Non-profit organization by:
Bernhard Gehberger
Tango-DJ.at
Bürgergasse 18/2/14
1100 Wien
E-mail: bernhard@tango-dj.at
Mobile: +43 699 19 13 44 42
Recommended upcoming international tango events
Some international tango events I am DJ-ing, recommending or travelling to:
Tuesday's 3h Práctica
Almost everything is closing down here in Vienna during the summer but our Práctica experiencing increasing popularity. Join us refining our tango dances!
CD-reviews & news
Audio/Video presentations
This month's A/V presentation is featuring the rather unknown recording "Mi virgencita" by Juan Maglio "Pacho", 1927 taken from CTA-728.
CD News of Club Tango Argentino (CTA), AMP & Sondor
As stated in my last newsletter you may take a look at this updated pdf document for all CDs I try to keep in stock of the special and hard to get labels: CTA (Japan), AMP (Japan), Audio Park (Japan), Sondor (Uruguay) & Harlequin (UK).
Sadly several CTA-CDs went out of print:
Lomuto's CTA-221, CTA-224, CTA-732
D'Agostino's CTA-351, CTA-352, CTA-353
Firpo's CTA-743
Canaro's CTA-774
Mercedes Simone CTA-812
Ada Falcón Vol. 3 CTA-823
I do have a few of them left in stock, so be quick in order to get one of those last CDs!
"CD-discography" of Francisco Canaro
Finally I am done with crosslistening and correcting/verifying the recordings on the 129 CDs of this Canaro collection. Corrected and added information is based on Christoph Lanner's Canaro discography, expertise and help. This collection contains ~2300 differing recordings. A list of recordings missing in this collection but published on other CDs can be found here. A listing of ~5500 tracks (~2400 recordings) by Francisco Canaro and the CDs on which they can be found is available on "CD-discography" of Francisco Canaro. Of course this list includes multiple listing of recordings being published on different CDs.
So there are three new pages listing Canaro recordings:
Please note that this is not the outcome of a scientific research, but an export of my music archive. So I do not garantee that the published information is complete and/or correct. It should still be helpfull to find recordings you are looking for or identifing missing recordings you might be interested in.