TANGO-DJ.AT
Association for the preservation
and provision of Argentine tango

Newsletter March 2016
by Bernhard Gehberger
March 2016
Dear tango enthusiast,
long time no read... This is Bernhard from TANGO-DJ.AT, Association for the preservation and provision of Argentine tango with my meanwhile not so monthly newsletter about international tango events, DJ-ing, special tango CDs and much more. Please note that videos, sound samples and special characters might not display correctly in the e-mail. Please visit the online version instead. Enjoy!
Introduction
We hope that you enjoy this newsletter. Please feel free to share our TANGO-DJ.AT newsletter or weblink with your friends or other tango enthusiasts.
Best wishes from Vienna,

Bernhard

TANGO-DJ.AT
Association for the preservation
and provision of Argentine tango
Tango events
INTERNATIONAL MILONGA WEEKEND VIENNA
The first edition was a huge success and we are looking forward to welcoming many dancers again for the upcoming events! If you are interested in visiting our International Milonga Weekend as dancer or DJ please find all dates and DJs (as fixed so far) for 2016 on our website.

The programm of the upcoming weekend 4/5 March featuring two invited DJs, Patrick Demars (France) and Luca Lamberti (Italy), Bandolera Shoes and La MilongaM tango fashion:
Friday, 4 March, Milonga with DJ Patrick Demars (France)
Saturday, 5 March, Milonga with DJ Luca Lamberti (Italy)
La MilongaM presenting

milonguero tailor-made menswear

Bandolera tango shoes
And of course the best GTs in tango

MILONGA WEEKEND VIENNA
4/5 March


DJ Patrick Demars

DJ Luca Lamberti




La MilongaM will be presented by Anita Mária Hornyák on Saturday.




Bandolera shoes will be presented by Zsoka Sallai on Saturday.


TANGOAMADEUS festival
Don't miss one of the best tango festivals around. So plan your trip to Vienna 4-8 May 2016 participating the TANGOAMADEUS Festival! Some of the most exciting and amazing locations in Vienna will be made available to you to tango the night away! We will try our best to get decent sound into those venues again!
Please consider to pre-book your tickets for workshops and Milongas as they might be fully booked.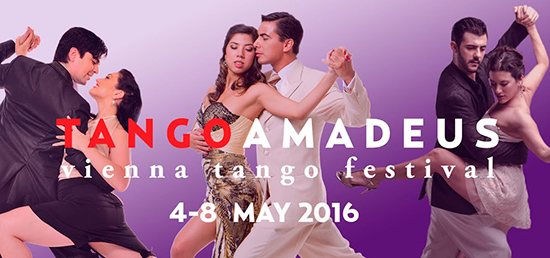 CD reviews & news
Club Tango Argentino (CTA, Akihito Baba)
Some of you might wonder when the next CTA release will become available. Short answer: We don't know.
Long one: It has been reported to us that Mr. Akihito Baba experienced some health issues in the end of 2015 and beginning of 2016. When he will be able to publish new releases is unknown at the moment. I was informed that Mr. Akihito Baba decided to publish not more than two more releases.
We wish Mr. Akihito Baba all the best in recovering as soon as possible and we do hope that he will be able to publish some more of his great releases.
AMP LPs
One of the reasons why this initially monthly newsletter is not at all monthly any more. As we published in short notes, we were able to complete the AMP and CTA LP collection. Since then we are working hard to add them to our archive in the best quality possible.
We are very well aware that our service for our members is suffering at the moment due to the workload we invest into this matter. But please be assured that this will result in unique information and service for you in the near future!
Following a little collage of all AMP LP covers photographed by Bernhard Gehberger and post-processed by Theo Chatzipetros. A big thank you to Theo for offering his professional help with taking care of the time consuming task of post-processing those covers to almost perfection. We believe that this alone is a worldwide unique collection of digital cover arts of AMP LPs.
Enjoy!












































































TANGO-DJ.AT database update
A lot of time and work went again into maintaining and extending our tango database. The biggest changes have been a complete workover of all Rafael Canaro recordings as well as the addition of ~900+ Carlos Gardel recordings and correction of all 1749 Gardel entries.
All recordings have been added with full date when available, composers (not shown in the front end yet) and record numbers.
If you want to support our work with this database, so we can add some of our planned additional and exciting features, please get in touch with us!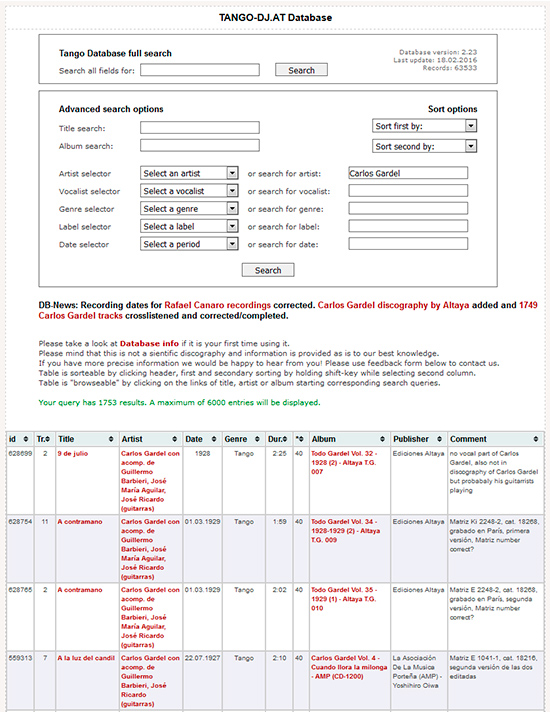 If you are interested in becoming a TANGO-DJ.AT member please visit our membership subscription page.